Macy's Members Ratify New 3-year Contracts!
Congratulations to our Macy's members on ratifying their new 3-year contracts.
Last Sunday, May 19, it was standing room only at the Local 1445 union hall, as Macy's members gathered to vote on - for the second time - new 3-year contracts.
Previously, members had voted on - and REJECTED - the less-than-satisfactory proposals the company had offered. Members had determined to STRIKE if the compay did not stop stonewalling negotiations and start considering the Local 1445 negotiating team's more realistic proposals. SOLIDARITY was the watchword for Macy's members, who were demanding from the company the respect and recognition they have earned through their hard work and commitment to making Macy's as profitable and successful as possible.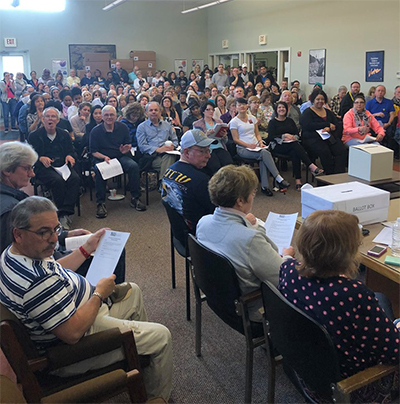 After long, difficult, and contentious negotiations, the Local 1445 team managed to secure from the company negotiators contract provisions that the team felt were fair and would be satisfactory to the members... and they were right! Members at the second ratification meeting last Sunday overwhelmingly voted to accept the new contracts, which will provide great wage increases, improved health insurance, and time-and-a-half pay for Sundays and holidays, among other improvements.
Once again, UNION SOLIDARITY and our members' determination have won the day! Congratulations to all!