Macy's Members VOTE TO STRIKE!
Macy's contracts - one for the Boston store and one for the 4 branch stores (Peabody, Braintree, Natick, and Warwick) - expired at the beginning of February; contract negotiations have been ongoing, without much progress.
Last Sunday, May 12, it was standing room only when Macy's members met at the Local 1445 union hall to review the contract proposals and to vote to accept them or to reject them and strike. They unanimously voted to REJECT the contracts as they were presented, and to STRIKE if necessary to force the company to bargain in good faith and agree to realistic proposals that recognize the value and hard work of the members.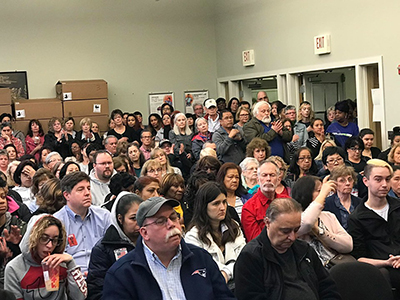 "It's the hard work and dedication of our members that has made this company so successful," said President Bollen. "Macy's owes them a FAIR CONTRACT!"
Talks are continuing. Negotiating team members are hoping to reach an equitable agreement with the company but are ready to do whatever is necessary - to call a STRIKE, if that's what it takes - to make sure our members are treated FAIRLY and with the RESPECT they have earned.