Register for the FREE College Benefit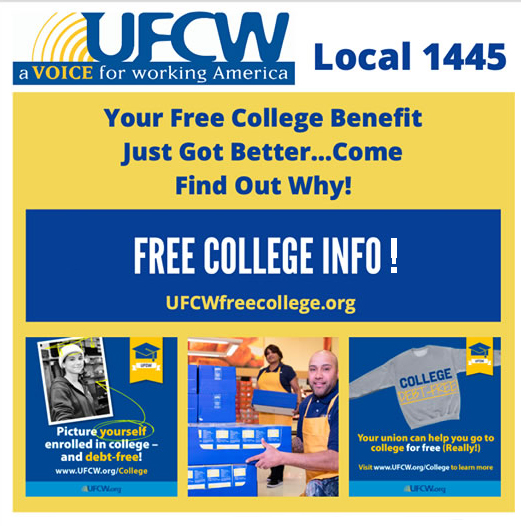 Being a member of the UFCW family means you and your family members can take advantage of the UFCW Free College benefit.
Yes, we said FREE! That means getting a college education - online from a laptop or smart device and with a flexible schedule - at no cost to you for tuition or fees.
The deadline to register for the next session is May 25. Visit www.ufcw.org/college to learn more, to find out about registrations dates, and to enroll in classes.
This is a continuing benefit for UFCW members and their families, so don't worry if you're seriously thinking about taking advantage of this program but haven't quite made up your mind yet. As long as you're a member of Local 1445, you have time to decide.
Future start dates:
6/3/19 Summer session starts
8/19/19 Fall session starts
10/14/19 Fall 2 session starts
1/13/20 Spring session starts
The FREE COLLEGE BENEFIT - just one more of the many benefits available to UFCW Local 1445 members and their families.