Macy's Negotiations Reach Tentative Agreements! Ratification Meeting - Sunday, May 19
As of May 14, Local 1445's Macy's negotiating teams and the company have reached tentative agreements that the teams feel they can favorably present to the Macy's members for ratification, potentially averting a strike.
The tentative agreements include retaining time-and-a-half for Sundays, reduced health insurance premiums, and good wage increases, with NO GIVEBACKS.
Our Macy's teams worked 10- and 12-hour days without a break, fighting strong and stubborn pushback from the company, to secure these agreements. "We were determined to make sure our members got the fair contracts they deserve," said 1445 negotiator Brian Sangster. "We're the ones who keep the stores running and the customers coming back, and the company needs to acknowledge that fact by giving us the wages and benefits we've earned."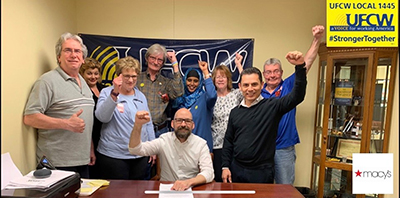 There will be a contracts ratification meeting this coming Sunday, May 19, at the UFCW Local 1445 office, 30 Stergis Way in Dedham, at 8:30 AM. All Macy's members are strongly encouraged to make every effort to attend.