SUPPORT FOR STRIKING STOP & SHOP MEMBERS IS POURING IN!
Overwhelming support is pouring in for Stop & Shop strikers, not only from all around Massachusetts and New England, but from around the country and even around the world! Stop & Shop customers, community members, and members of other unions are showing their support by bringing food and beverages to the strikers, and by joining the lines and holding signs. Teamsters and UPS drivers are refusing to cross picket lines, meaning deliveries, shipments, and trash pick-up services are not happening at the striking stores. Unions that do not do business directly with the Stop & Shop companies are actively encouraging their members to support the strikers. And all are asking: HOW CAN WE HELP?
Even representatives from unions representing Delhaize/Ahold companies in Europe have come to the US to plead the case for their American union brothers and sisters!
In addition, officers from unions across America are taking direct action by writing letters to Stop & Shop and Delhaize/Ahold officers protesting the company's unconscionable treatment of its workers, especially since the company got a huge federal tax break, makes literally billions of dollars in profit, and just voted an 11.1% increase in dividends for its shareholders.
Don't the WORKERS - ON THE FRONT LINES IN THE STORES - deserve to share at least A LITTLE BIT in these profits? WHY IS STOP & SHOP DEMANDING THAT THEY GIVE BACK AND GIVE UP?
Stop & Shop is portraying their contract proposals as reasonable and fair; THEY'RE NOT. The company is demanding that workers pay substantially more for a substantially more inferior healthcare plan; accept bonuses (a one-off payment) instead of realistic wage increases that would improve over time; cut holidays and vacations; and on and on and on. And they have plenty of lame excuses for why they want to force these miserable conditions down their workers' throats.
It's just not right.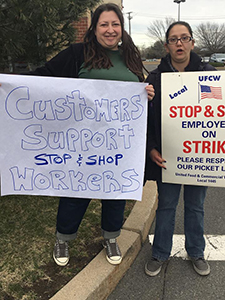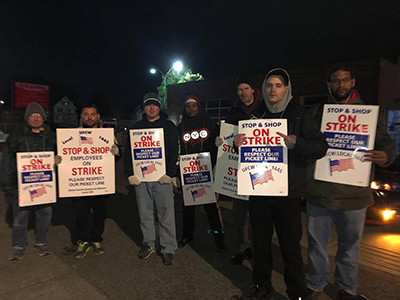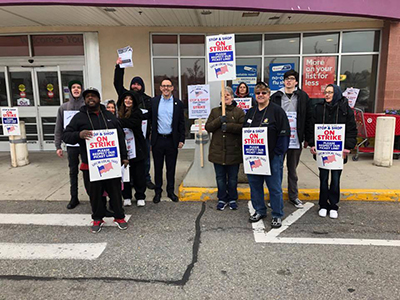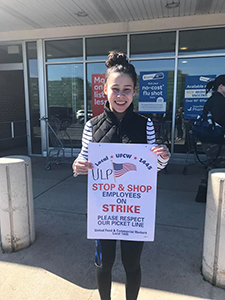 Photos and videos are coming in faster than we can post them! Check them all out on our FaceBook page !