Latest info for Bob's Discount Furniture members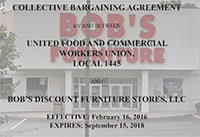 Contract negotiations are ongoing, contract proposals are being discussed.
Bob's Discount Furniture members - you can now see the latest proposals and let your business agent, Gene Giacobbe, the Local 1445 Negotiations Director, Fernando Lemus, and your negotiating team know how you feel about these issues. Just register for an account on this website by clicking here, on the login icon, or in the login box. Fill out the form, select a user name and password, and once your member status has been verified you'll be able to access the Member Resources and get copies of your last contract and of the latest contract proposals.
You'll also find contact information for Gene and for Fernando, so you can let them know what's important to you. Your final contract will determine your working conditions for the next several years, so your negotiating team WANTS and NEEDS YOUR INPUT! Help them get YOU the very best contract by taking an active role in determining exactly what your negotiating team should be fighting for!
If you've already registered and your account has been activated, login and you can see this information by clicking on MEMBER HOME in the Member Resources area,